THE
NUTRITION APP


FOR ATHLETES

SIGN UP & TRY IT FREE


Get personalized, sports-specific




nutrition from the Critical Reload App
PERSONALIZED NUTRITION PLANNING FOR OVER 40 SPORTS

including position, season, and gender-specific options
| All Around Athlete | Cheer & Dance | Diving | Ice Hockey | Soccer | Track & Field |
| --- | --- | --- | --- | --- | --- |
| Alpine Skiing | Combat Sports | Field Hockey | Lacrosse | Softball | Volleyball |
| Baseball | Crew | Football | Marathon | Swimming | Wrestling |
| Basketball | Cross Country | Golf | Rugby | Tennis | And More |
| Football | Baseball | Basketball |
| --- | --- | --- |
| Soccer | Ice Hockey | Running |
| Tennis | Golf | And More |
| All Around Athlete | Cheer & Dance | Diving | Ice Hockey | Soccer | Track & Field |
| --- | --- | --- | --- | --- | --- |
| Alpine Skiing | Combat Sports | Field Hockey | Lacrosse | Softball | Volleyball |
| Baseball | Crew | Football | Marathon | Swimming | Wrestling |
| Basketball | Cross Country | Golf | Rugby | Tennis | And More |
CRITICAL RELOAD APP BUILDS YOU A CUSTOMIZED NUTRITION PLAN
Critical Reload App analyses your data and builds your personalized nutrition plan.
Hydration needs based on your data and activity level.
Recommended carbohydrate, protein and fat needs based on sport and season cycle.
THE RIGHT NUTRITION PLAN, EVERY TIME
Pro athletes use sport nutritionists to plan healthful nutrition needs for peak performance and recovery.
The Critical Reload App scientifically optimizes your nutrition plan to boost performance and speed recovery.
See strength and performance gains like never before.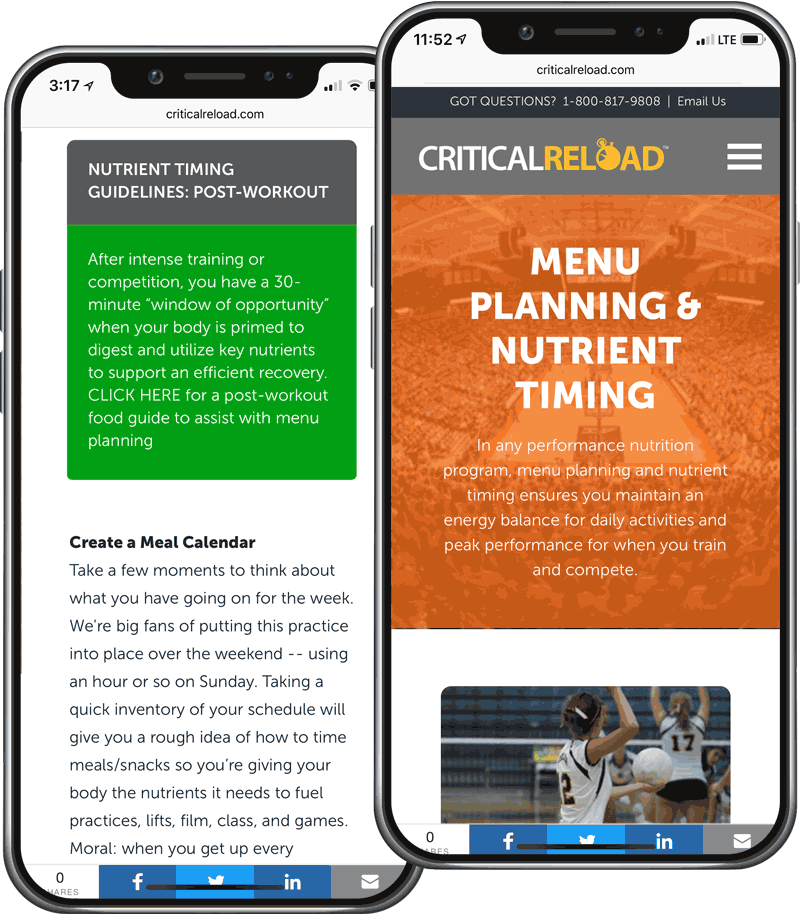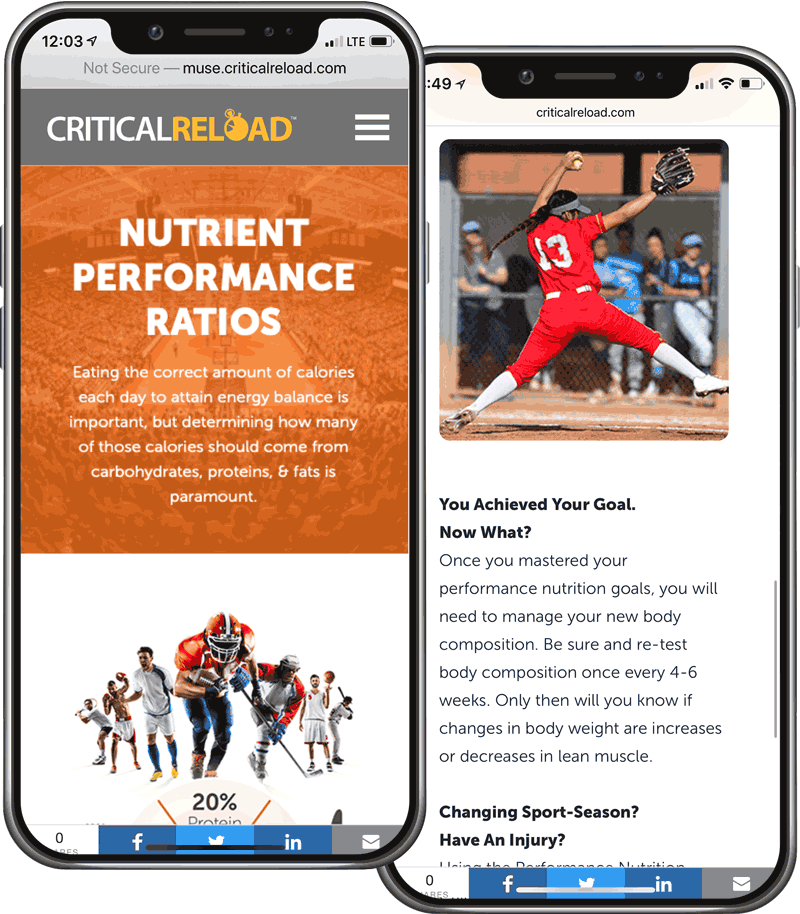 WORLD-CLASS NUTRITION YEAR ROUND
Customize your nutrition plan as a multi-sport athlete and season cycles.
Continually update nutritional needs as you build muscle and change body composition.
Adapt your nutrition plan during periods of injury and evolve as you return to play.
FUELED BY

CRITICAL RELOAD
Created by a collegiate strength coach and specialist in sports nutrition, Critical Reload Performance & Recovery Shake is the best-tasting and safest nutrition options for coaches and athletes.
2:1 carb-protein ratio restores energy & supports muscle recovery better than each nutrient alone

Loaded with high-glycemic carbohydrates (not sugar) for rapid energy replenishment.*

High-quality whey protein blend for increased strength muscle growth & recovery.*

No high fructose corn syrup so you stay healthy and avoid energy pitfalls.

Collegiate compliant and Informed-Choice tested for banned and harmful substances.