Description
Performance Matched With Value
The Critical Reload 2×5-Gallon Dispenser is our most popular nutrition solution to efficiently refuel an entire team in a matter of minutes. The Dispenser has a 10-gallon capacity, so you can comfortably accommodate a roster ranging from 20-200+ athletes. Also, the Dispenser's low-cost and compact design makes it ideal for placing in a locker room or multiple training facilities.
How It Works
The Dispensers patented cooling system creates a delicious, refreshing, ice-cold performance & recovery shake that it light and smooth; never "heavy on the stomach." As a result, your athletes will look forward to drinking Critical Reload immediately after each workout.
Customizable Nutrition Delivery System
Unlike traditional Ready-to-Drink (RTD) products, you can control calorie ranges by varying cup size or pour amount based on gender and performance goals (i.e., weight-gain, recovery, a quick snack before practice) giving you better control, efficiency & less waste. Using the Critical Reload Caloric Variance Guide below, you can customize specific nutritional ranges per poured ounces.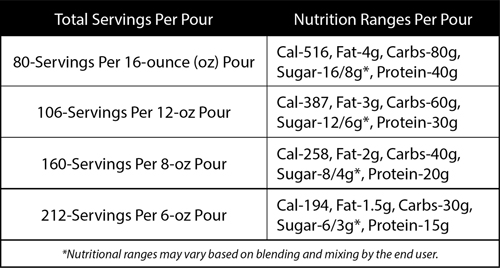 Benefits & Features
Saves time and money.
Conveniently fuel and refuel your entire team in less time.
Two different sized dispensers to manage any size or number of teams.
Simple dispenser care promotes better sanitation.
Ease of use enables a 'mess-free' operation.
The variable serving application gives flexible calorie and nutrient control.
Self-contained bowl lifts off the unit with parts inside for easy cleaning.
The eco-friendly, patented cooling system uses less energy.
Frequently Asked Questions
Q: Do I need a special plug (i.e., 220-volt) to power any of the dispensers?
A: Not at all! All Critical Reload (CR) Dispensers make, and models use a standard 120-volt outlet. 
Q: Can I mix sports drinks (i.e., Powerade) in the Critical Reload Dispenser?
A: Certainly! Many customers do this regularly. The CR Mixer/Dispenser fast-acting condensing unit keeps your sports drink ice-cold and is an excellent way to distribute to a team without the mess or hassle of a traditional ice cooler.
Q: How long will Critical Reload last in the CR Dispenser?
A: Good question! A freshly made batch of Critical Reload will last up to 48-hours once it's mixed, blended, and poured into the machine. CR Mixer/Dispenser comes in six different makes, models, and sizes to suit your individual needs. To find out which CR Mixer/Dispenser is right for you (i.e., number of athletes per day, servings per machine, etc.), contact a friendly and knowledgeable Critical Reload Sales Associate today.
Q: How quickly can I clean my CR Dispenser?
A: Cleaning time will vary slightly depending on which size machine you use. On average, though, cleaning the machine AND refilling it takes around 10 to 15 minutes.
Q: How easy is cleaning the CR Dispenser?
A: It's simple, fast, and easy! At Critical Reload, we know you don't need to add to your daily chores list, and with the CR Mixer/Dispenser, you don't have too. Unlike traditional shake machines, which have several hard-to-clean parts (i.e., granita machine, ice cream machine, etc.), CR Mixer/Dispenser breaks down in seconds and is quick & easy to clean.
Q: How often should I clean my Dispenser?
A: We recommend cleaning the Mixer/Dispenser each time Critical Reload gets emptied from the machine or every 48-hours, whichever occurs first.
Warranty
1-year parts
1-year labor
5 years compressor parts