Description
Benefits & Features
SAVE TIME

Deliver nutrition information without thinking about it
CONVENIENCE

Use your TV to present streamed nutrition information immediately
RELIABLE CONTENT

Streams gathered nutritional facts based on the latest research
PROGRAMMED CONTENT

33-weeks of nutrition facts that enrich your athlete's knowledge
EFFORTLESS LEARNING

Athletes acquire nutritional wisdom in a brief summarized format
Get Our Free SMART Goals Guide!
Our SMART Goals Guide Showcases The Value of Critical Reload Stream To Administrators
Why You Need This Guide:
Integration tactics for Critical Reload Stream.
Metrics for engagement and effectiveness.
Roll-out plans for Critical Reload Stream.
The value proposition for admins.
Don't miss out on a FREE Critical Reload On-Demand subscription and secure your funding with data-driven facts.
Fuel Performance
in Bite-Sized Streams
With Critical Reload Stream, you can maximize the impact of your athlete's health and performance by integrating frequent nutrition education streams into your student's and athlete's weekly routine.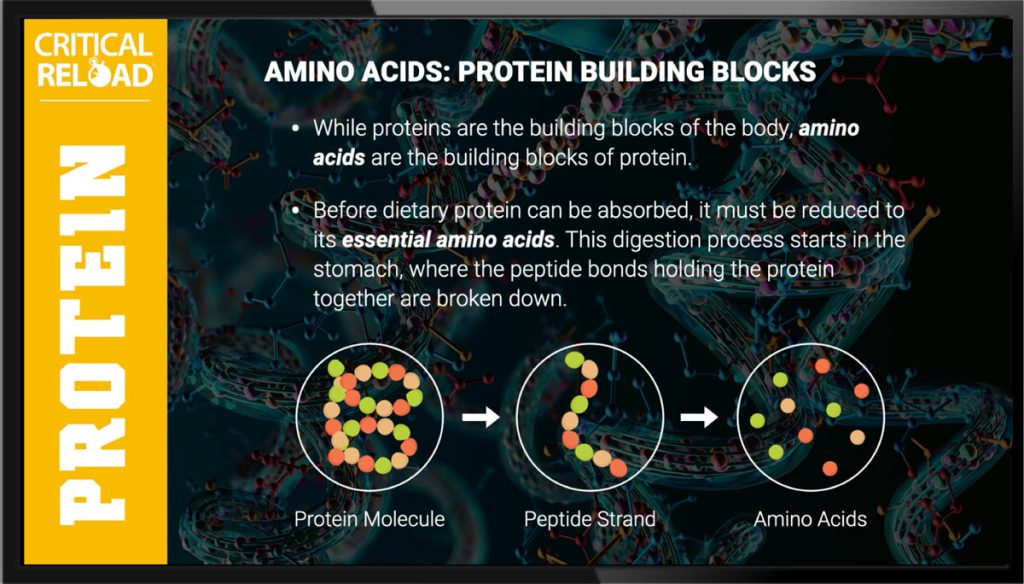 Bite-Sized Streams
Discover the transformative power of Critical Reload Stream, where nutrition education comes alive in convenient and engaging 6-10 minute streams.
Imagine the impact of accessing valuable nutrition insights multiple times per week, perfectly complementing athletes' training routines.
Each week, as athletes dedicate themselves to training 3 times a week, for 30 to 60 minutes per session, they'll have the opportunity to reinforce their nutrition education through repeated exposure to the streamed content.
With consistent engagement, athletes will develop a deep understanding of vital nutrition concepts and gain practical knowledge that they can apply to optimize their performance.
The bite-sized nature of our streams ensures that athletes can easily absorb and retain the information without adding excessive time demands to their already busy training schedules.
This regular exposure to nutrition education will help build a solid foundation of knowledge and empower athletes to make informed choices that enhance their performance and overall well-being.
Expert-Led Nutrition Education
Experience the highest level of nutrition education with Critical Reload Stream, where you can access sourced content delivered by the nation's top board-certified specialists in sports dietetics, registered dietitians, certified strength and conditioning specialists, and nationally recognized educators.
With Critical Reload Stream, you can trust that you receive the most up-to-date and credible nutrition education from industry-leading professionals.
THE Critical Reload TV DIFFERENCE
Playlist
3 Videos 1:15 1:47 1:12
Play Video
Video Overview
Video Overview
Critical Reload TV lets you deliver weekly nutritional topics to your athletes with the same level of scalability you've come to master with your strength and conditioning program. 


Video Overview
Video Overview
More often than not, coaches push their athletes to adopt better nutritional habits. This approach is where nutritional adherence yields. Critical Reload TV attracts the athlete to take an interest in nutrition.


Video Overview
Video Overview
Critical Reload TV allows you to deliver a unified message around nutrition across your entire athletic department — athletes and coaches alike — through the power of health and wellness.
I COULDN'T Believe it!
I went into the school cafeteria this morning to start CR TV while the kids ate breakfast. Elementary kids were sitting near the tv, and when I turned it on, they were begging for YouTube/Netflix/etc. When I turned on CR Stream, I was told, "Awww, this is boring!" Then, it turned into them trying to answer questions and reading and talking to each other. — I couldn't believe it!
Stream In Various Settings
Discover the versatility of Critical Reload TV Stream as it seamlessly fits into multiple settings, enabling students and athletes to access nutrition education wherever they are.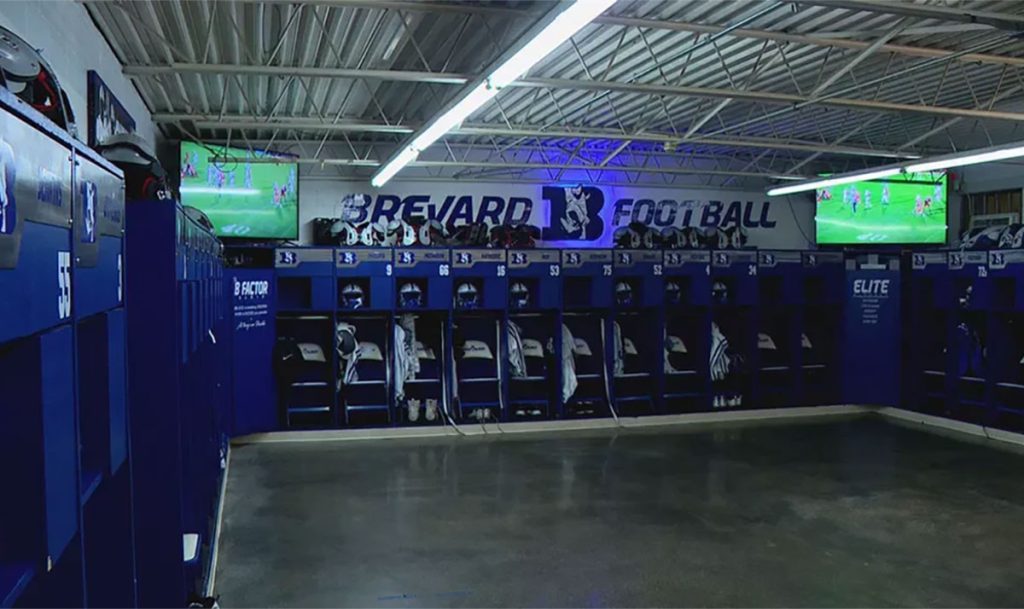 Locker Room
Critical Reload Stream can be played in the locker room, providing an engaging and educational resource for athletes during pre- and post-workout routines.
Athletes can access valuable nutrition tips, hydration strategies, and performance-enhancing insights right in the locker room, helping them make informed choices about their nutrition and well-being.
Incorporating Critical Reload Stream in the locker room creates a culture of nutrition awareness and supports athletes in their overall performance and recovery goals.
Playing Critical Reload Stream in the weight room allows athletes to learn about nutrition's role in strength training and muscle recovery.
Athletes can access workout-specific nutrition guidance, meal planning ideas, and expert tips to optimize their nutrition around weightlifting sessions.
Having Critical Reload Stream playing in the weight room exposes athletes to evidence-based nutrition education while focusing on building strength and achieving their fitness goals.
Displaying Critical Reload Stream in the cafeteria can provide a valuable resource for students to learn about healthy eating choices and make informed decisions about their meals.
Athletes can access meal planning ideas, nutrition facts, and practical tips for balancing their food choices to support their performance goals.
By featuring Critical Reload Stream in the cafeteria, you create a nutrition-focused environment that encourages students to develop lifelong healthy eating habits.
Critical Reload Stream can be played in multi-purpose areas such as common rooms or gathering spaces, allowing athletes and students to access nutrition education content conveniently.
Incorporating Critical Reload TV Stream in these areas ensures that nutrition education is accessible to a broader audience, fostering a culture of wellness throughout the school community.
Athletes and students can gather, engage, and learn together, discussing nutrition topics and exchanging ideas for optimal performance and well-being.
A Year-Round Nutrition Journey
Critical Reload Stream offers a 33-week broadcast designed to enhance knowledge, foster healthy habits, and unlock peak performance potential.
Recognize the symptoms that may indicate the need for better nutrition and rest in athletes.
Understand the distinction between general nutrition and sports nutrition and their respective requirements.
Realize the importance of consuming more nutrients and understanding sports nutrition even for individuals who are not athletes.
Appreciate the positive aspects of a healthy diet and its impact on overall well-being, energy levels, and self-image.
Comprehend the role of nutrition and rest in delaying fatigue, enhancing recovery, and improving strength for athletes.
Internalize the concept that a bad diet cannot be compensated for by training alone.
Understand the concept of getting weaker during training and the role of nutrition in promoting adaptation and strength gains.
Recognize the significance of proper rest and nutrition routines in enhancing recovery and delaying fatigue.
Comprehend the role of calories as the body's energy source and their importance for performance and growth.
Learn about energy balance and the consequences of consuming too many or too few calories.
Understand the benefits of consuming enough calories for maintaining an anabolic state and supporting muscle growth.
Gain awareness of metabolism, calorie burn, and the importance of determining individual calorie needs for optimal nutrition.
Understand carbohydrates' role as the primary energy source for the body, brain, and nervous system.
Recognize the consequences of low carbohydrate intake for athletes and increased injury risk.
Identify and avoid low-carb fad diets for overall health and athletic performance.
Determine the recommended carbohydrate intake as an athlete.
Recognize that carbohydrate needs vary based on sports, position, competition season, activity level, height, weight, sex, age, and body composition goals.
Understand the importance of considering the type, timing, and amount of carbohydrates consumed for optimal performance.
Differentiate between nutrient-rich and processed carbohydrates based on their vitamin, mineral, and fiber content.
Understand the benefits of high-fiber, carbohydrate-rich diets.
Differentiate between soluble and insoluble fiber and their roles in digestion and metabolism.
Identify food sources rich in soluble and insoluble fiber.
Explain the importance of timing high-fiber meals for athletes to prevent digestive issues and bloating.
Recognize the recommended daily fiber intake for females and males and calculate the fiber needed based on caloric intake.
Apply the knowledge gained to create a high-fiber meal plan and choose appropriate carbohydrate snacks for different energy needs.
Understand the process of carbohydrate digestion, conversion to glucose, and storage in the body.
Recognize the role of insulin in facilitating the absorption of carbohydrates.
Explain the need for a consistent carbohydrate supply to replenish glycogen stores.
Comprehend the impact of carbohydrate intake on growth and recovery.
Identify the consequences of inadequate calorie intake.
Understand the role of water in carbohydrate storage and hydration needs.
Evaluate the drawbacks of fad diets that exploit the carbohydrate-water link.
Understand the significance of a healthy gut in maintaining energy levels, nutrient absorption, immune function, and cognitive health.
Recognize the role of the gut microbiome.
Identify prebiotic and probiotic foods and their importance.
Examine the negative effects of a diet low in fiber, high in sugar, saturated fat, and processed foods on the gut microbiome.
Comprehend the function of the gut and leaky gut syndrome on health.
Understand the relationship between gut microbiota and polyphenols in fruits and vegetables.
Recognize the importance of consuming various colorful fruits and vegetables for health benefits.
Identify specific foods and their associated polyphenols based on their color category.
Learn about the anti-inflammatory, antioxidant, and other health-promoting properties of polyphenols.
Understand the potential risks of a ketogenic diet on gut health and cardiovascular disease.
Understand the importance of protein as a macronutrient and its role in various metabolic functions.
Recognize the significance of protein in muscle growth, repair, and recovery, particularly for athletes and individuals engaged in physical activities.
Identify different protein sources and their nutritional benefits, including animal- and plant-based options.
Comprehend the concept of amino acids as the building blocks of proteins and their digestion and utilization in the body.
Gain knowledge about how the body uses protein through protein synthesis to fulfill its functions.
Understand the three groups of amino acids: essential, non-essential, and conditional.
Identify the importance of branched-chain amino acids (BCAAs) in muscle synthesis, energy, performance, endurance, recovery, cortisol regulation, and blood sugar regulation.
Learn about the sources of leucine, isoleucine, and valine in animal- and plant-based foods.
Recognize the limitations of BCAA supplements compared to complete protein sources.
Gain the knowledge that all nine essential amino acids are necessary for optimal health, growth, and recovery.
Understand the importance of protein bioavailability and its impact on the body's ability to utilize protein effectively.
Differentiate between complete, incomplete, and complementary proteins and identify examples of each.
Compare animal-based and plant-based proteins' amino acid content, digestibility, and other factors.
Identify situations when focusing on plant or animal protein is beneficial based on activity levels and recovery needs.
Determine the recommended protein intake for athletes and individuals aiming to gain muscle.
Recognize the significance of consuming protein before and after training sessions and bedtime routines.
Understand the benefits of small, frequent meals for protein synthesis and nutrient intake.
 
Understand the health benefits of plant-based diets for athletes.
Evaluate the misconceptions surrounding exclusive plant-based diets.
Comprehend the comparison between animal-based and plant-based proteins in terms of protein content and quantity.
Learn about the "Less Legs Routine" and its recommendations for including animal-based proteins in a balanced diet while reducing unhealthy elements.
Identify protein-rich snack options for athletes on the go.
Understand the drawbacks of pure-protein diets for health and performance.
 
Understand the essential functions of fat in the body.
Identify the negative effects of excessive amounts of saturated and trans fats on health and performance.
Differentiate between healthy unsaturated fats and less healthy fats.
Recognize food sources rich in healthy fats.
Comprehend the benefits of omega-3 fatty acids.
 
Understand the recommended fat intake for adolescents and the consequences of low-fat consumption during the teenage years.
Learn about the digestion and absorption process of fats in the body.
Recognize the reasons to avoid high-fat meals before exercise and the potential negative effects.
Discover suitable options for including healthy fats in pre-workout and post-workout meals.
Gain knowledge on reducing saturated fat intake and making healthier dietary choices.
Understand fat storage process and the role of fat cells.
Identify types of body fat and their functions.
Differentiate subcutaneous and visceral fat and associated health risks.
Define body composition and its components: lean body mass, fat mass, and body fat percentage.
Recognize the importance of body composition for health and its link to chronic illnesses.
Understand the relationship between body composition, metabolism, and lean body mass impact.
Explore body composition's connection to athletic performance, dietary plans, and training programs.
Evaluate challenges of measuring body composition and easy, accurate alternatives.
Comprehend the link between body composition, athletic performance, and sports-specific components.
Understand that there is no perfect body type for athletes.
Recognize that different sports require different body types and have distinct optimal body composition values.
Learn the importance of lean body mass, body fat percentage, and strength-to-mass ratio for athletes in various sports.
Understand the significance of proper training, nutrition, and performance-oriented goals in athletic success.
Gain knowledge about the role of carbohydrates and fats as fuel sources during exercise and their utilization at different intensities.
Recognize the potential drawbacks of high-fat, carbohydrate-restricted diets for athletic performance and overall health.
Appreciate the importance of carbohydrates as the body's preferred metabolic fuel source for athletes needing quick bursts of energy and speed.
Understand the significance of hydration during physical activity and its impact on performance, muscle growth, and overall health.
Identify the process of hydration, dehydration, and rehydration and their effects on the body's ability to function normally.
Recognize the importance of appropriate hydration strategies in minimizing performance losses, boosting recovery, and preventing injuries.
Explain the various health benefits of hydration.
Understand the relationship between hydration and muscle growth.
Recognize the negative consequences of dehydration on aerobic performance, power training, exertion markers, and training stimuli.
Learn about the rate of sweat loss during physical activity and the importance of electrolytes in rehydration.
Understand the significance of water in the human body.
Recognize the importance of electrolytes and their functions.
Identify the factors that can lead to electrolyte imbalances and their impact on hydration and athletic performance.
Learn about hydration schedules and strategies for maintaining optimal hydration levels during physical activity.
Recognize the symptoms of dehydration and understand the consequences of inadequate fluid intake.
Understand the connection between hydration and energy replenishment.
Learn how to measure sweat rate and calculate fluid requirements during exercise.
Understand the significance of urine color as an indicator of hydration status.
Differentiate when electrolyte-enhanced drinks are necessary.
Recognize the presence of electrolytes in whole foods and their importance for overall performance.
Identify food sources rich in sodium, calcium, magnesium, and potassium.
Recognize the potential consequences of electrolyte deficiencies.
Evaluate the effectiveness of pickle juice for cramp relief.
Learn strategies to meet electrolyte needs through a balanced diet and proper hydration for optimal performance and recovery.
WEEK 19: Vitamins & Minerals, Part 1
Understand how vitamins and minerals are essential for energy conversion in the body.
Differentiate fat-soluble vitamins from water-soluble vitamins based on solubility, storage, and elimination.
Comprehend the importance of micronutrients in preventing diseases.
Identify the increased micronutrient needs of athletes due to exercise-induced stress.
Understand the risks of excessive micronutrient intake, such as toxicity and interference with other nutrients.
Familiarize yourself with Dietary Reference Intakes (DRIs) as guidelines for nutrient consumption by age and gender.
Emphasize the significance of a food-first eating plan for athletes, supplemented by dietary supplements if needed, and being mindful of micronutrient intake.
Learn about reputable companies with quality assurances when selecting vitamin supplements.
WEEK 20: Vitamins & Minerals, Part 2
Understand the impact of food choices on obesity and chronic diseases.
Define nutrient density and explain its significance in a healthy diet.
Differentiate between energy density and nutrient density in food.
Recognize the influence of portion sizes and frequency of consumption on calorie and nutrient intake.
Explain the importance of food preparation, cooking, and processing on nutrient density.
Identify examples of energy-dense and nutrient-dense foods.
Highlight the importance of variety and moderation in food choices.
Discuss the concept of fortified foods and their impact on nutrient intake.
Apply the 80-20 rule for making food choices while allowing for occasional indulgences.
WEEK 21: Vitamins & Minerals, Part 3
Role of vitamins and minerals in muscle repair and recovery.
Impact of oxidative stress and inflammation on sports recovery.
Depleted vitamins and minerals during endurance exercise and the need for replacement.
Contribution, roles, and antioxidant qualities of vitamins A, B, C, D, E, potassium, magnesium, and iron.
WEEK 22: Meal Planning & Timing, Part 1
Understand the significance of nutrition planning in athletic performance, training adaptations, and recovery.
Explore the concept of nutrient timing and its effects on recovery, tissue repair, muscle protein synthesis, and mood states.
Recognize the limitations of generic meal plans and the need for individualized meal planning.
Comprehend the meal planning process, considering personal schedules, food preferences, available ingredients, and seasonal produce.
Develop the ability to identify and address nutritional gaps in food preferences.
Enhance knowledge of macronutrients by categorizing selected foods into the primary categories of carbs, protein, and fat.
WEEK 23: Meal Planning & Timing, Part 2
Understand the concept of nutrient timing and its impact on exercise performance and recovery.
Identify the importance of consuming pre-workout meals.
Recognize the different fuel sources (carbohydrates, fats, and proteins) and their roles in supporting different types of exercise and intensity levels.
Apply guidelines for pre-workout meal composition based on the timing before exercise.
Comprehend the benefits of consuming a carbohydrate + protein combination before resistance training.
Evaluate the effects of exercising on an empty stomach and its implications for performance.
Create a personalized meal plan based on pre-workout and nutrient timing principles.
Utilize 'triggers' to establish a routine for meal timing and energy balance.
WEEK 24: Meal Planning & Timing, Part 3
Understand recovery's significance in sports nutrition and its impact on performance and injury prevention.
Recognize post-workout meal components and their role in replenishing fuel stores, repairing muscle tissue, and rehydrating the body.
Comprehend the importance of nutrient timing for glycogen resynthesis and muscle recovery.
Learn about meal frequency's influence on appetite, satiety, weight loss, body composition, and muscle protein synthesis.
Understand effective rehydration strategies and the role of sodium in hot and humid conditions.
Gain knowledge about suitable post-workout meal options to support recovery.
Learn the benefits of pre-sleep protein intake.
Apply knowledge by completing assignments on meal planning.
Setting 'triggers' to establish an energy balance and nutrient timing routine.
WEEK 25: Meal Planning & Timing, Part 4
Understand the six key steps involved in effective meal planning.
Recognize the importance of aligning meal choices with your daily schedules.
Learn how to list favorite meals and involve family members in meal planning.
Discover strategies for taking food inventory and creating a shopping list.
Explore the features and benefits of a grocery shopping app.
Identify quick, healthy snack options to avoid unhealthy temptations.
Understand the significance of visualizing a successful grocery store trip.
Gain knowledge about selecting nutritious items from different sections of the grocery store.
WEEK 26: Meal Planning & Timing, Part 5
Understand the benefits of frozen fruits and vegetables and prioritize them in the frozen section.
Make informed choices in the cereal aisle by identifying specific health options.
Be able to identify and select canned fruits and vegetables with healthier packaging content.
Gain awareness of healthier choices in the sauce and condiments aisle.
Recognize the importance of choosing 100% fruit juice and explore alternative whole-food options.
Discover ways to incorporate healthy snacks from different grocery store sections.
Explore the convenience and benefits of curbside pick-up for time and cost savings.
Learn about batch cooking to ensure healthy meals throughout the week.
Understand how meal subscription services offer balanced meals and convenience for busy individuals and families.
Embrace gradual meal planning implementation for long-term success.
WEEK 27: Nutrient Ratios, Part 1
Understand the relationship between calories, macronutrients, and overall health and performance.
Recognize the role of ATP as the energy source for bodily functions and physical activity.
Learn about the three primary energy systems (Phosphocreatine, Glycolytic, and Oxidative) and their durations.
Identify the sports and activities that rely on each energy system.
Appreciate matching energy system requirements to specific sports situations for optimal performance.
WEEK 28: Nutrient Ratios, Part 2
Understand the characteristics and contributions of different energy systems during exercise at varying intensities and durations.
Recognize the importance of aligning energy system requirements with specific sports situations.
Explore the bioenergetics of exercise and its relation to optimal energy supply for peak performance.
Comprehend the role of nutrient ratios in fueling the body for different sports, intensities, and durations.
Identify the significance of nutrient ratios in different training cycles and their impact on muscle protein synthesis and performance.
WEEK 29: Nutrition Tracker App
Understand how to install and set up a nutrition tracker app to monitor and manage a performance nutrition plan.
Learn how to adjust the calorie budget within the app to align it with personalized nutrition calculator measures.
Discover how to log meals using the app and utilize meal macronutrient calculations to meet sport-specific energy demands.
Gain knowledge about portion control and learn how to accurately record serving sizes by using a Portion Control Guide.
Comprehend the significance of nutrition facts labels in making healthier eating choices and identifying nutrient-dense foods.
Understand the components of a habit and how they contribute to its formation.
Recognize the role of cues, routines, and rewards in habit development and modification.
Learn techniques for changing habits by switching the routine while keeping the cue and reward intact.
Recognize the importance of willpower in forming and maintaining habits and explore strategies for strengthening it.
Apply the three-step process of forming a habit to the specific goal of establishing a breakfast habit.
Develop a personalized plan for consistently delivering rewards and building routines to support the desired habit.
Utilize resources such as guidebooks and worksheets to aid in habit formation and track progress.
Practice accountability by sharing progress and plans with a parent, coach, or friend.
WEEK 31: Critical Reload Simple Start
Understand the concept of keystone habits and their influence on developing positive routines.
Learn about the Simple Start performance nutrition plan and its focus on small wins and essential steps.
Recognize the importance of portion control guides, meal planning, and keeping a food log as part of a healthy nutrition routine.
Explore the significance of starting with breakfast and gradually adding other meals to build sustainable habits.
Understand the role of willpower as a resource and how to utilize it effectively in recording meals.
Learn the recommended approach for logging meals every 10 days and its benefits in creating a comprehensive food profile.
Understand the importance of managing nutrition annually by monitoring body composition changes and adjusting nutritional needs.
Understand the importance of sleep as a fundamental physiological process for the body's repair and restoration.
Explain the two systems that regulate sleep.
Identify the different stages of sleep and their distinct purposes in restoring and repairing the body.
Recognize the impact of sleep on physical and mental performance, recovery, and stress levels.
Explore the benefits and guidelines for effective napping.
Comprehend the relationship between sleep and eating habits.
Learn the recommended sleep duration for different age groups and the challenges athletes face in obtaining optimal sleep.
Understand the negative effects of blue light exposure at night on the sleep-wake cycle.
Identify strategies to minimize blue light exposure.
Recognize the impact of late-night social media use on athletic performance.
Implement ways to improve sleep quality.
Explore using sleep-tracking apps and devices to monitor sleep patterns and assess sleep quality.
Understand the purpose and benefits of sleep surveys in evaluating sleep quality and daytime sleepiness.
GENUINE CONVERSATIONS
I've had more genuine nutrition conversations in the last 10 days than I've had in the last 2 years with Critical Reload Stream.
Compare Related Products
Critical Reload TV Stream focuses on live streaming of content, providing a real-time viewing experience with interactive elements. On the other hand, Critical Reload TV On-Demand offers pre-recorded content that can be accessed and watched at the viewer's convenience, providing flexibility and control over the viewing and nutrition educational experience.FEATURESCR TV STREAMFREE*Stream nutrition education into multiple school settings

Get Started


Learn More

CR TV ON-DEMAND$ 59.99Search and review streamed content anywhere, anytime

Get Started


Learn More

33-weeks streamed content


NADownloadable assets


Archived searchable content


CR Nutrition Calculator


Lesson Summary


Lesson Learning Objectives


Lesson Quizzes


Linked ReferencesLIMITED


Certificate of Completion


Continuing Education Units


Daily Text Lesson Tips

*FREE is relative to application approval. 
Critical Reload Stream FAQ
Frequently asked questions about Critical Reload Stream
IN MY STATE, ONLY REGISTERED DIETITIANS CAN OFFER NUTRITIONAL ADVICE TO ATHLETES. CAN I USE CRITICAL RELOAD TV AND REMAIN COMPLIANT?
Yes. You are allowed to deliver nutritional information without being a licensed dietician so long as the information provided is sourced as such. Critical Reload TV Stream and all its nutritional information are sourced and reviewed by registered dietitians and board-certified sports dietetics specialists prior to publishing.
How do I set up Critical Reload TV?
Setting up Critical Reload TV Stream is "Plug-n-Play." The service can run on virtually any type of digital display. Below are the most popular hardware platforms:
Amazon (Firestick), LG, Sony, Phillips, Apple OS, NEC, Samsung, Panasonic, Sharp, ViewSonic.
A Critical Reload TV expert will assist in setting up your account.
In some cases, your IT Department may need to be involved in setting up permissions for your specific device.
Your TV will need to be wifi capable and contain an available USB port.
Do I need a Wifi connection to stream Critical Reload TV?
Yes, we use your school's network to stream Critical Reload TV Stream.
Is Critical Reload TV Stream secure on my school or company network?
Yes. Our platform gets used by some of the world's biggest brands, and as such, we hold security and compliance in the highest regard. We pride ourselves on maintaining and implementing the correct and latest security processes across all aspects of our platform.
The platform infrastructure gets hosted via Amazon's AWS in a Virtual Private Cloud (VPC). This security physically prevents any connections from accessing core servers from the external internet, only allowing access via the load balancer. This configuration essentially mitigates the risk of a third party exfiltrating data from our databases or asset library storage.
Are Amazon 4K Fire Stick's secure?
We are currently deployed across multiple large projects running Amazon 4K Fire Sticks, this includes many financial institutions where security is of the highest priority, where the devices have passed their internal IT audits. The device is also fully backed by Amazon who provide regular security updates to the devices. CLICK HERE for details.
The FireTV device is based on Android, but heavily modified by Amazon to prevent unauthorized software from running on the device. To install any software that is not from the Amazon App Store, you would have to use the remote to enable functionality called "Android Debug Bridge", confirm the connection to my computer visually on the FireTV Stick and then run the software. Even then, an attacker still doesn't have access to the "superuser" (basically "Admin") to be able to make changes to the core FireTV software files.
What size TV screen do I need?
Choosing the right TV size for your room depends on two critical factors: your budget and the size of the space.
While your budget may play a role, the size of your television should be determined by how crowded your weight room is on average. The smallest we suggest you go with is a 40-inch screen. If your budget allows, an ideal screen size is between 55 to 60-inch.
Wherever you decide to put the TV in your weight room, you'll almost always want to mount it to the wall instead of using a TV stand. If the gym will serve multiple people, average their heights and subtract 5 inches to ascertain average eye level. Place the middle of the TV slightly above this point to best accommodate the majority.
A TV with screen technology with excellent viewing angles is OLEDs, followed by QLED, and LED-LCD TVs.
A single TV will work great utilizing Critical Reload TV Stream in your weight room. Purchasing multiple smaller TVs is a great way to get the optimal viewing experience at various locations in your weight room without having to compromise.
Can my athletes view the Critical Reload TV stream on their phones?
No. Critical Reload TV Stream is capped for use with your TV and not your mobilie device.
Can I control the information I receive (i.e., on-demand)?
No. We developed the nutritional content of Critical Reload TV Stream, so you [coaches] avoid the burdening task of managing a nutritional playlist.
Can I get copies of the content?
No. Critical Reload Stream is a licensed broadcast service.
How do I report a problem with my service?
Contact info@criticalreload.com and enter the subject line as Critical Reload TV Tech Support.
Shortly thereafter, a Critical Reload TV expert will assist fixing your service.
Contact info@criticalreload.com and enter the subject line as Cancel My Critical Reload TV Service. 
Shortly thereafter, a Critical Reload TV expert will assist with canceling your account.