Description
Your All-in-One Nutrition Education Solution
Looking for the best learning management solution for athlete nutrition education? Whether you're a coach or an educator, AthleteHub offers state-of-the-art features and analytics. Streamline athlete enrollment, monitor progress, and facilitate smooth communication from a single intuitive dashboard that delivers peak performance.
Why pick Critical Reload AthleteHub?
See which athletes are in your athlete education program.
Add athletes individually.
Or, use a CSV to add many at once. With a simple upload, our learning management solution sends each athlete an invite.
Assign more coaches or assistants to your group.
They help with managing athlete education for teams or entire athletic programs.
Reports show how athletes are doing, which makes it perfect for tracking.
See quiz scores with our learning management solution. Know if a subject is challenging.
If many find a question hard, consider adding it to the 'discussion' chat to improve athlete education.
Make chat groups for athletes, teams, or coaches.
Use the 'discussions' spot to post questions or assignments and get email alerts on chats.
Message one athlete or the whole group.
Share more info in folders to boost athlete education.
Adding documents and photos expands your athlete education beyond the scope of the course.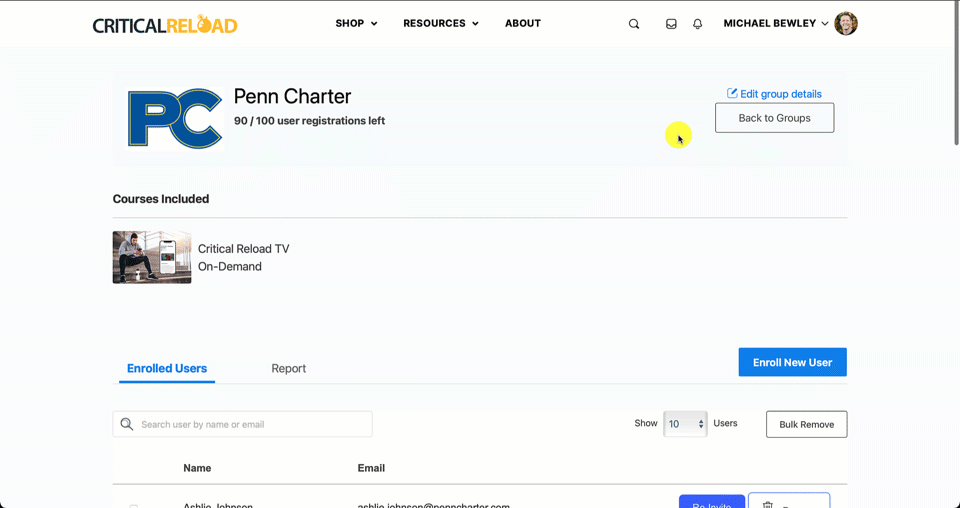 Choose your plan
Critical Reload AthleteHub is the top learning management solution for athlete education
Starter
PACK
$
600
USD per year*

Get Started
Popular
Pro
Series
$
1000
USD per year*
TEAM
ELITE
$
1500
USD per year*
PRO
SUITE
$
2400
USD per year*
*The listed pricing pertains exclusively to AthleteHub and does not cover the costs for Critical Reload On-Demand
Year-Round Roster Flexibility
Seamless Athlete Management with Our Learning Management Solution
With a 12-month AthleteHub license for 50 athletes, your athlete education becomes more flexible and efficient. Whether you're preparing a team for the Fall league or gearing up for the Spring showdown, our learning management solution adapts to your coaching needs.
Enroll, replace, or reassign athletes seamlessly throughout the year, ensuring your training and monitoring tools are always current and effective.
Frequently asked questions
How does ATHLETEHUB teach nutrition?
Relying on contemporary pedagogical principles for athlete education and use with Critical Reload On-Demand, AthleteHub emphasizes interactive and tailored nutrition education experiences for each athlete.
Is it possible to enroll a large group of athletes?
Yes. Our learning management solution uses a CSV upload feature to enroll a large number of athletes easily. 
How does athlete education progress get monitored?
The AthleteHub is a learning management solution that offers detailed reporting tools, allowing for in-depth monitoring of individual and group education progress.
How do coaches and athletes communicate using AthleteHub?
The AthleteHub is a learning management solution with a dedicated 'discussions' section, creating a cooperative athlete education environment.
Ready to Take the Next Step?
Experience Premier Learning Management Solutions For Athlete Nutrition Education
Get in touch with the Critical Reload Team at a time that works for you. Then find out how AthleteHub's state-of-the-art athlete education features and analytics help ensure your athletes are on track with their Critical Reload On-Demand lessons.