Description
Benefits & Features
4000mg CREATINE
to grow, strengthen, sustain, and repair muscles
2000mg BCAA
To lessen soreness and reduce fatigue from exercise
1000mg GLUTAMINE
preserves protein stores that boost muscle gain and performance
130mg PROBIOTICS
To boost immune system, improve digestion, and boost energy
GMP Certified
adheres to the FDA Good Manufacturing Practice requirements
The Only Patented
Muscle-Building Formula
Muscle Rx utilizes five individually patented ingredients along with a 47 ingredient enzyme-based, and a cultured delivery system to prove it helps your body sustain or build strong, lean muscle.
Blend of patented Creatine Magnesium Chelate along with straight Creatine.
Patented stabilized Glutamine (MGG); the only fully stabilized form of Glutamine available.
Patented Magnesium and Calcium as amino acid glycinates. These forms are fully absorbed and don't cause stomach upset as oxide, sulfate, and citrate forms of minerals do.
Branch Chain Amino Acids (BCAA) consisting of Leucine, Iso-Leucine, and Valine.
Cultured Media and Opti-Blend Delivery System: This 47 ingredient blend provides potent plant enzymes, probiotics, and foods to carry and transport the anabolic Muscle Rx nutrients straight to the body's amino acid pool (bloodstream).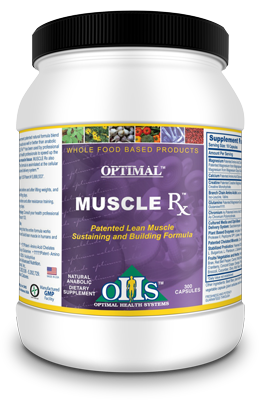 DIRECTIONS OF USE
For Building Lean Muscle: Take 5 capsules before and after lifting weights, and take 5 capsules morning and night on non-lifting days.
For Sustaining Muscle: Take 5 capsules before and after lifting resistance training, and take 5 capsules at night on non-training days.
CRITICAL RELOAD
PERFORMANCE BLOG
Taking creatine as a supplement is very popular among athletes to gain muscle, enhance strength and improve exercise performance. It is the world's most tested supplement and has an outstanding safety profile. Check out our exclusive creatine articles that explain everything you need to know about creatine.
The right ingredients
in the right form
Muscle Rx uses five patented ingredients in the right form to grow, strengthen, sustain, and repair muscles naturally without the common, unwanted side effects of unhealthy practices.
Creatine
Creatine (creatine monohydrate with magnesium creatine chelate) – Creatine has been proven in over 500 university research to aid in the building of lean muscle. Its goal is to guarantee that nutrients are distributed to cells for ATP production. Unlike plain creatine, ours does not cause excessive water retention. Our mixture was able to both create and regenerate ATP. It hugely outperformed creatine monohydrate taken alone at higher doses.
Branched Chain Amino Acids (Leucine, Isoleucine, and Valine supplied in an enzyme protein matrix) – Studies have shown that particular doses boost anabolism and muscle growth while also increasing lean muscle mass more effectively and safely than testosterone.
Magnesium (chelated amino acid patented) – Magnesium insufficiency affects roughly 70% of the population. Catabolism, or muscle wasting, results as a result of this. Magnesium supplementation has been shown to be quite useful; yet, it is difficult to do. When done incorrectly, it causes diarrhea and non-absorption. Our unique form shown the capacity to effectively increase muscle mass while avoiding undesirable side effects.
Chromium (amino acid chelated and polynicotinate) – Chromium helps to keep blood sugar and cortisol levels in check. Cortisol promotes catabolism. Our version stabilized both while also assisting in the maintenance and growth of muscle.
Glutamine (Patented stabilized magnesium glycyl glutamine) is the most prevalent amino acid in the body. It's what your body craves during times of stress or physical exertion. Its job is to boost muscle synthesis and keep the pH of the intestine in check. It also removes acid accumulation in muscles. The researched glutamine is the only totally stable glutamine on the market. According to research, it reached the bloodstream minutes after eating and at significant quantities. This encourages the production of growth hormone, which slows the aging process and builds muscles.
FAQ
Our most frequently asked questions about creatine
Creatine has a number of benefits for your health and sports performance.
Its principal function during high-intensity exercise is to enhance phosphocreatine reserves in your muscles.
The extra stores can then be used to make more ATP, which is the primary source of energy for heavy lifting and high-intensity activity (1, 2).
Creatine aids muscular growth in the following ways:
Creatine supplements also boost phosphocreatine levels in the brain, which may help to promote brain health and prevent neurological disorders (12, 13, 14, 15, 16).
Does creatine supplementation have any harmful side effects?
Creatine is one of the most well-studied supplements available, with four-year studies revealing no harmful effects. One of the most comprehensive studies measured 52 blood markers and observed no adverse effects following 21 months of supplementing (1, 2).
Does creatine cause muscle cramps?
Although many people relate creatine with dehydration and cramping, scientific evidence contradicts this. In fact, studies show that it can help prevent cramps and dehydration during long-distance running in hot weather (1, 2).
I've always heard creatine use causes kidney damage. Is that true?
There is also no evidence that creatine harms the liver and kidneys in healthy people who take normal doses. That said, those with preexisting liver or kidney problems should consult with a doctor before supplementing (1, 2, 3).
How does creatine improve strength and performance?
Creatine can also help with strength, power, and high-intensity workouts.
When compared to training alone, adding creatine to a training regimen boosted strength by 8%, weightlifting performance by 14%, and bench press one-rep max by up to 43%, according to one study (1).
Supplementing for 28 days improved bike sprinting performance by 15% and bench-press performance by 6% in well-trained strength athletes (2).
Creatine also aids in the maintenance of strength and training performance as well as the growth of muscle mass during periods of intensive overtraining (3).
The enhanced capacity of your body to create ATP is the primary reason of these visible changes.
After 8–10 seconds of high-intensity exertion, ATP is normally exhausted. Creatine pills, on the other hand, help you manufacture more ATP, allowing you to sustain peak performance for a few seconds longer (4, 5, 6, 7).