Pre-workout or pre-game nutrition, in the days and hours prior, serves to:
Support performance by providing sustained energy, 

Maintain an optimal hydration status, 

Prevent muscle damage and loss, 

Delay fatigue and prevent GI discomfort, and

Setup up for faster recovery. 
Pre-workout or pre-game nutrition is very individualized from the timing of the type of nutrients, the type of training, its duration, and what you can tolerate and prefer.
Your pre-workout or pre-game nutrition in the hours prior serves as a tune-up, and can be especially important when competing in tournaments, playing games or matches daily or multiple times in a week, or undertaking two-a-day training.
The pre-workout or pre-game meal in the hours prior becomes a crucial part of the recovery and preparation cycle.
What you eat or drink will depend on how far out you are from the start of that training session, game, match, or race.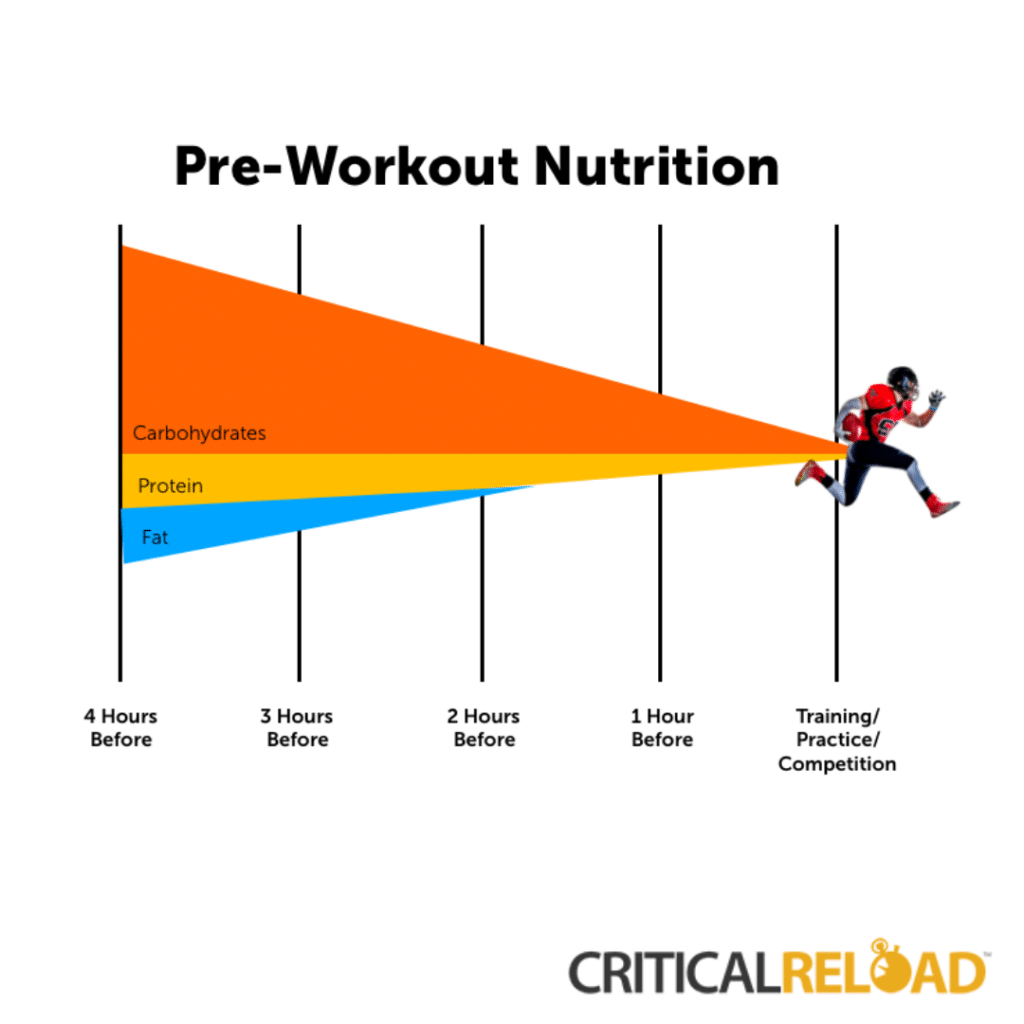 A pre-event meal should come 3-4 hours before your training session or competition. This meal consists of all three macronutrients – carbohydrates, proteins, and fat. It can be nutrient-dense and more substantial and filling.
The closer you get to the training session or competitive event, the size of your meal or snack gets smaller, and the composition changes. Meals and snacks consistent mostly of carbohydrates and proteins and generally should be low in fiber and fat.
Too much fat or fiber, too large of a meal or snack, and consuming artificial sweeteners and sugar alcohols can lead to bloating gas, diarrhea, and stomach upset. Avoid these GI issues closer to training or competition by limiting such food. Of course, some athletes can tolerate larger meals or higher amounts of fiber and fat in their pre-game meals. Again, your pre-game nutrition is individual and dependent on you and what you can tolerate.
What if it's hard to eat less than 2 hours before?
If you find that you cannot tolerate a lot of food right before a workout or competition (<2 hours prior), try eating further in advance, 3+ hours before, to allow your body time to digest.
What if I have an early morning practice or game?
Don't try to cut into your sleep to eat 3-4 hours in advance. Find what works best for you in the time frame between waking up and the start of practice or competition.
What if I get hungry or tired during a workout or game?
If you find yourself hungry or fatigued during training or competition, add in a carbohydrate-rich snack an hour prior.
What if I can't eat at all beforehand?
If you experience nervousness and/or struggle to eat a pre-event meal, consider liquid carbohydrate beverages, smoothies, or easily and quickly digested foods.
Most importantly – practice your pre-event nutrition strategies! 
Find what works best for you and avoid trying new or unfamiliar foods on the day of competitions.
Burke, L., & Deakin, V. (2015). Clinical Sports Nutrition. (4th ed.). McGraw-Hill Education (Australia) Pty Ltd.
Burke, L., Hawley, J.A., Wong, S.H., Jeukendrup, A.E. (2011). Carbohydrates for training and competition. Journal of Sports Science, 29(Sup1), S17-S27.
Burke, L.M., Kiens, B., &  Ivy, J.L. (2004). Carbohydrates and fat for training and recovery. Journal of Sports Sciences, 22(1), 15-30. 
Ormsbee, M.J., Bach, C.W., & Baur, D.A. (2014). Pre-exercise nutrition: the role of macronutrients, modified starches and supplements on metabolism and endurance performance. Nutrients, 6(5), 1782-1808.
Rehrer, N.J., van Kemenade, M., Meester, W., Brouns, F., & Saris, W.H. (1992). Gastrointestinal complaints in relation to dietary intake in triathletes. International Journal of Sport Nutrition, 2(1), 48-59.
Thomas, D.T., Erdman, K.A., Burke, L.M. (2016). American College of Sports Medicine Joint Position Statement: Nutrition and athletic performance. Medicine and Science, 48, 543-568.
Image Inspiration and Credit: Angie Asche